Just one week after our new dashboard design has seen the light of the day I am happy to announce that another update to CMS Commander has just been released.
You can see the changes by logging into your CMS Commander account or simply read on to learn what's new.
Updated Statistics and Activity Tabs
Both the statistics and activity tabs inside your Dashboard have received a new design that also includes more useful information being displayed.
On the statistics tab you can now find a table that shows traffic metrics for the past 2 weeks for all your sites, including bounce rate, unique visitors and the percentage of new visits. The table allows you to order by each metric, which makes it easy to identify the sites with (for example) the lowest or highest bounce rate in your website network.
The activity tab does now display more information on the total number of actions that were performed in your CMS Commander account in recent months as well as a detailed action log. Furthermore you can now send activity reports via email – see below for more on that.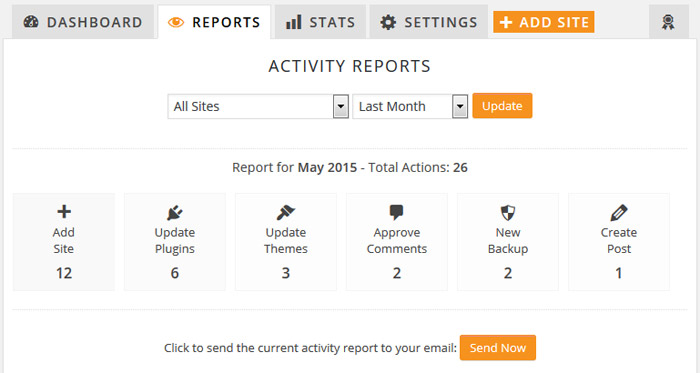 Improved Client Reports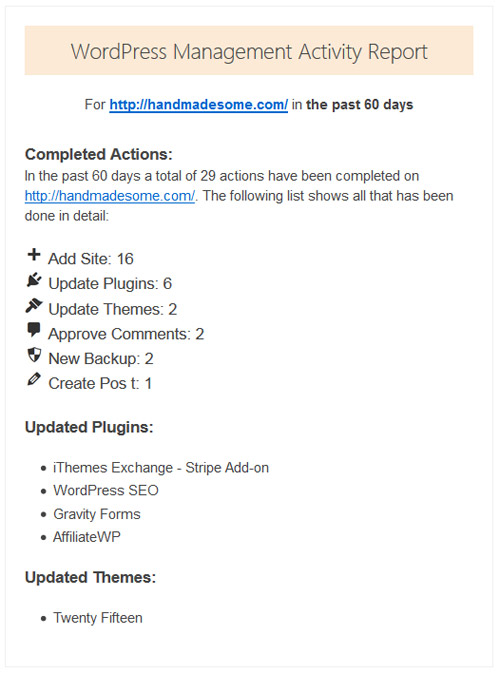 Are you managing websites for clients inside CMS Commander? Then you will like this new feature, which makes it possible to email yourself reports of all management actions you have performed on a client site in CMS Commander.
This is how you can send an activity report to your email:
On your CMS Commander dashboard click on the "Activity" tab.
With the dropdown at the top select the website you want to send a report for as well as the desired timeframe. Then press the "Update" button.
After the stats have been loaded click on the new "Send Email" button.
On the right you can see an example of how the new activity report will look in your inbox. It includes details on all performed actions as well as a list of updated plugins, themes and new WordPress versions (if any).
Please note that this example is for a single site report. If you select "All Sites" in the dropdown instead of a specific site the list of updated plugins or themes will not be included.
As always we hope you like the changes and please send us an email if you have suggestions or notice any problems.
Join Over 3,000 Other Commanders!
Sign up now to start managing all your blogs immediately.
Completely free for 30 days. No payment details required!