Command Multiple WordPress Sites
Manage All Your Blogs In One Dashboard. Save Time And Earn More.
The best way to manage multiple WordPress blogs and an effective marketing tool in one solution: With CMS Commander you can update, backup and monitor all your sites within minutes.
Then let us help you optimize your content and increase your earnings.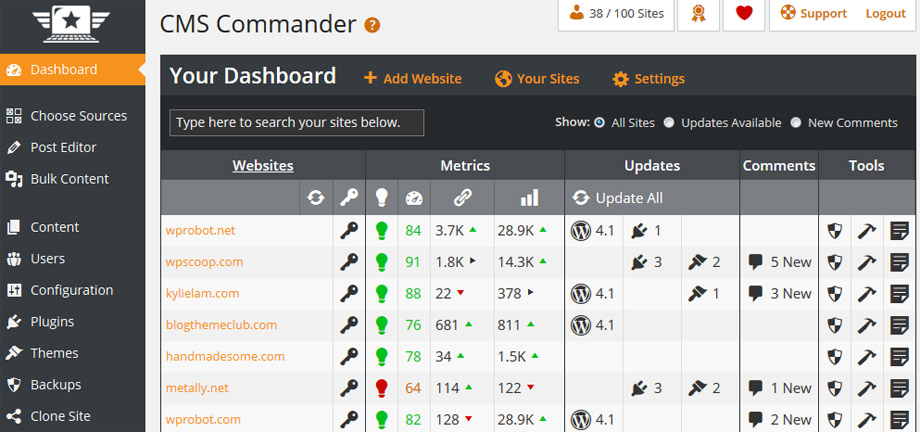 A management dashboard to fall in love with: Packed with features but easy to use.
The Best WordPress Management Solution
As an entrepreneur your time is your most valuable asset. So why waste it on repetitive management tasks? Let CMS Commander help you take care of your blogs faster than ever by completing updates, backups, installations, posting and much more on all sites in bulk.
In my opinion, CMS Commander has one of the most practical interfaces for managing multiple websites.
Kevin Muldoon, elegantthemes.com
Perfect For Content And Affiliate Marketers
CMS Commander integrates with over 20 popular services to help you build more engaging content on your sites and earn more money from your blog network. Access huge article databases, insert targeted affiliate ads, find free images or videos and more!
CMS Commander provides an effective platform that will save you time when managing multiple websites. There is plenty of helpful documentation and the pricing is very competitive.
Adam Connell, bloggingwizard.com
Start Saving Time Now
Sign up for free to join over 3,000 other commanders and see for yourself that our service is the best solution to manage all your WordPress blogs. You won't look back!