CMS Comander enables you to edit any number of pages and posts on your WordPress websites at the same time. The powerful WordPress bulk edit feature allows you to modify a large number of posts immediatelly in many different ways, including changing or adding the category and tags of the WP posts, replacing text inside the post, converting keywords to links and adding automatic content to all posts or pages. You can even bulk edit content on several or all of your websites at the same time. Simply load the desired content from all sites of your choice and then start editing with the simple but powerful tools CMS Commander provides.
Furthermore, as part of CMS Commander's API and affiliate autoposting feature you can also bulk add automatic content to your existing posts. Like that you can for example add a related video, image or affiliate product related to the title of your post to all your articles!
Search for WordPress posts which you want to edit accross your entire network of websites! Simply enter a keyword you want to search for and fetch results from any number of your websites at the same time. All found posts get displayed inside CMS Commander where you can bulk edit them, modify them or add automatic content to them.
Bulk change text in WordPress posts or pages – This easy to use text replacement feature helps you to replace old affiliate IDs, remove out-of-date links and much more! Simply enter the text you want to bulk replace and its replacement and apply it to any number of articles on any number of websites.
Mass convert any keyword to links in your WordPress articles – for SEO reasons and tointerlink your site network it can be very helpful to quicly insert links into your old posts. CMS Commander allows you to do exactly that: Specify keywords and link target, select your article and apply the bulk link conversion to all. You can set a random percentage in order to not replace all occurrences of the keyword.
Bulk edit WordPress categories, tags and post statuses – Easily mass edit the categories and tags of your content and add or replace the categories of your posts. Change the status of your previous posts, for example to publish a large number of drafts at the same time.
Bulk add automatic content to your WordPress posts – CMS Commander makes it very easy to add related affiliate products, images or videos to your posts. You have over 15 content sources to choose from and can either fetch content related to the article of your WP posts or to a keyword of your choice. All found content is displayed for review first and you can choose which items should be bulk edited on your websites.
All this said here are some actual and useful real-life examples on how you can use the bulk edit feature:
Add a related image to the beginning of your old articles that are missing one.
Add affiliate product ads to the end of all your WordPress posts in order to earn more money from your sites.
Replace another persons affiliate ID with your own i.e. on a website you bought from someone.
Add links pointing to a new website of yours from targeted keywords in your old posts for SEO value.
Remove an ad or banner of an expired affiliate offer from all of your posts at the same time.
Convert keywords to affiliate links to earn more money from your websites.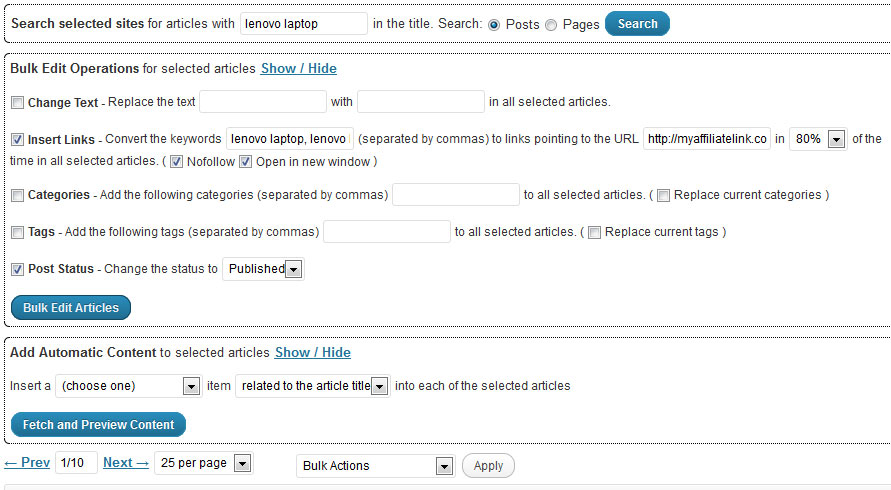 Overview over the bulk edit feature in CMS Commander
Have a look at the "Search and Bulk Edit WordPress Posts and Pages" article in the documentation to read more about this feature.