CMS Commander integrates seamlessly with the popular statistics software Google Analytics. Connect your Google Analytics account to your CMS Commander account in order to view recent traffic statistics, including unique visitors, total visits, average time on your websites and bounce rates, right inside your CMS Commander admin panel for all your websites at once. This allows you to review important statistics for your business while bulk managing all your websites and saves you valuable time that you would otherwise spend logging into your Analytics account separately. Connecting your Google Analytics account to CMS Commander is safe and easy: It only takes a few clicks and you can revoke the connection at any time through your Analytics account if you wish to do so.
Besides showing up to date traffic statistics for each of your individual websites CMS Commander also includes handy network traffic graphs. These graphics aggregate the statistics for all your websites from Google Analytics together, giving you an overview over the big picture and showing you which of your sites are under-performing in relation to all your others. The network statistics include five separate graphics for different important data: The Unique Visitors and Visits graphs show you the total reach of your site network, i.e. how much traffic all of your websites combined received on any given day, while the Bounce Rate, Average Time on Site and Percentage of New Visitors graphs compare all your sites in a single picture, allowing you to quickly find websites with a very high bounce rate for example and respond accordingly.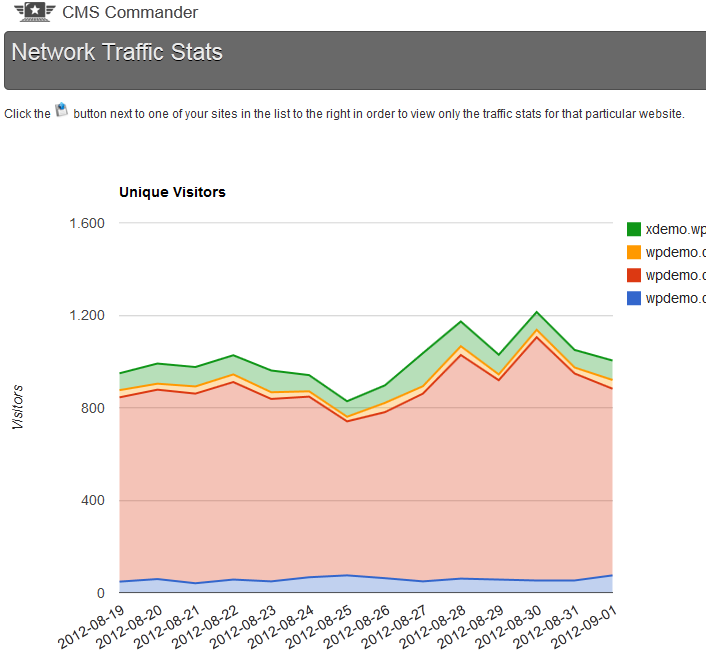 Sample network statistics graph for unique visitors on five websites.
Have a look at our documentation article on Google Analytics integration to see how easy it really is!