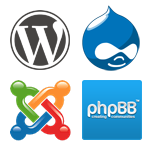 CMS Commander is an online service to easily and securely manage all your websites from a single central place. After signing up you can add each of your sites to the control panel and then manage all of the sites at the same time without the need to log into each websites administration panel individually. Even if you only own 2 or 3 web properties this can save you lots of time and with a whole network of dozens of sites it is an invaluable tool.
Moreover, CMS Commander can manage any number of websites using different softwares in their backend, called Content Management Systems (CMS), from the same place. Currently WordPress, Drupal, Joomla websites and phpBB forums can be managed through CMS Commander. Follow the links below to learn more about the CMS of your choice:
For more details on remotely managing your websites with CMS Commander have a look at the "Managing Your Websites" section in the documentation.