The Users page in CMS Commander consists of two parts: The first View /Edit Users tab lets you load the lists of user accounts from your websites so that you can manage them and for example delete users of your choice.
On the second Create Users tab you can, as the name implies, create new user accounts and save them to some or all of your sites. CMS Commander has the ability to bulk create a large number of user accounts on your sites at the same time.
Important: To autopost bulk content to your websites it is recommended you generate bulk users through CMS Comander on your sites first, so that those users can be used randomly for the automatic content. For phpBB this is even required for posting.
To bulk create new users there are only two field you need to fill out:
In the Usernames field you have to enter the desired usernames of the accounts you want to create. You can enter any number of names, with a single one on each line.

CMS Commander can also generate any number of random usernames for you – to do that just enter the desired number to the right of the field and press "Go".
In the Password field you can choose between entering a password of your choice, which will then be used for all the accounts CMS Commander creates, or alternatively have CMS Commander generate a random password for each new user account. If you chose the later the generated username and password pairs will be displayed after the users have been created.
When you are done just select your websites you want to create the new users on in the "Your Sites" list and click the "Create Users" button. "Overwrite Existing" means that CMS Commander will install the plugin even if a folder or files with the same name already exists – this can be useful for updating plugins but make sure that no important files get overwritten.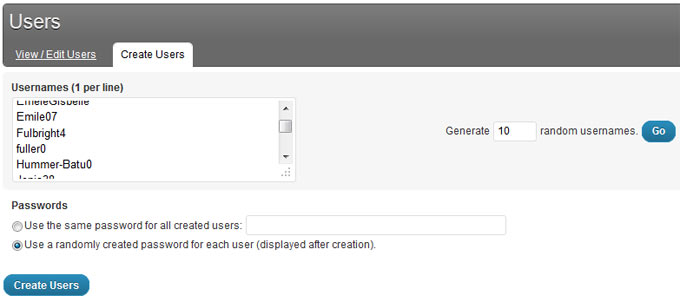 The bulk create users form.