If you want to use the WordPress autoblogging features in CMS Commander you need to tell the software which content sources you want to use and configure their settings. Many of the content sources require you to enter API keys for them to work – these keys can by obtained by signing up for a free account.
To activate content sources go to the "Choose Sources" page inside your CMS Commander account.
At the top of the "Choose Sources" page you can find the Choose Your Content Sources part. All available sources are displayed here and can be ordered alphabetically, by categories or by foreign languages they support. To activate one or several content sources check the checkbox next to their name and click "Save Selections" at the bottom of the page.
Resetting Content Source Options: If you need to reset the options and templates of a content source to the defaults do the following: Deactivate the Content Source on the "Choose Sources" by deselecting its checkbox and save. Then activate it again and the options will be back to the default.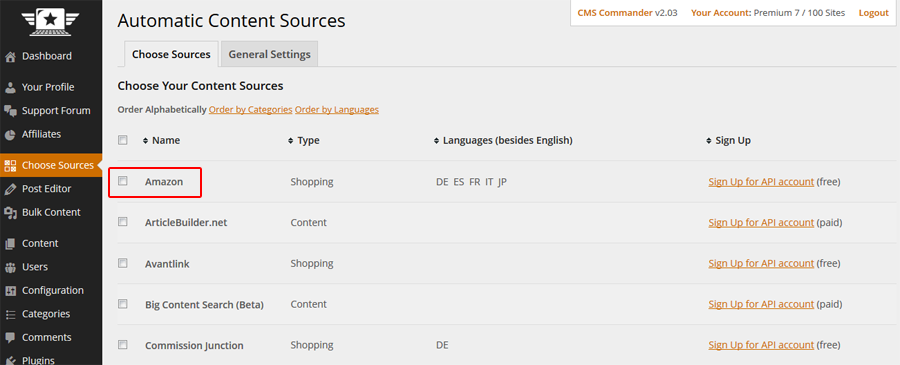 Configuring Content Source Settings
After activating a content source on the "Choose Sources" page a new tab appears in the menu at the top for the selected source. Click on the tab to view the settings related to this content source.
The settings for each source are displayed in a table. You can edit them and then use the "Save All Options" button at the bottom to save the changes made to all tabs at the same time.
Required API Settings: In general you don't have to modify the default settings CMS Commander provides, with the exception of the API Key settings, which are required to authenticate you with the API and use the service. To obtain an API Key you need to register for a free API account with the source you want to use.

Each required API Key setting field has a "Verify" button next to it – after you have entered and saved your user details you can click this button and CMS Commander will test if the communication with the API works correctly. This is not required to use the API but recommended.

Source Templates: Below the settings on each tab you will find the Templates that are used by each source. You can edit those templates to change the display of the automatic content CMS Commander retrieves i.e. you can use any text inside the template, add any HTML code of your choice. By using the "Copy" button you can create a new template. Editing templates is only recommended for advanced users.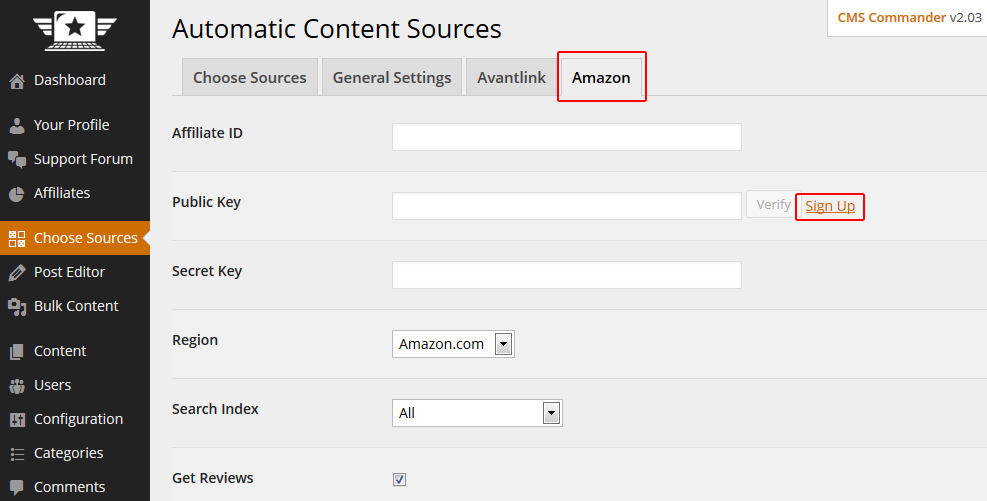 Join Over 3,000 Other Commanders!
Sign up now to start managing all your blogs immediately.
Completely free for 30 days. No payment details required!