The "Configuration" page of CMS Commander can be used to review, change and modify the core settings of your content management software on your websites. The big appeal of the page over doing it in your CMS directly is that by using CMS Commander you can update the settings on all your WordPress weblogs at the same time! Like this you can even syncronize the settings of all your weblogs, e.g. by copying the settings of one weblog to all the other sites.
Important: Please take the same care when changing settings in CMS Commander as you would on your own site and be sure you know what you are doing. Changing certain settings can break your site or make it inaccessible.
To start modifying the settings click the "Load Content" button next to one of your blogs in the "Your Sites" list. When done the settings of that particular site will be displayed in a table in the main content area, where you can make alterations. All the settings are divided into several tabs, which have the same names and descriptions as they do in your WordPress admin area and you can switch between at the top of the "Settings" page.
When you finished modifying the options you can select any number of your weblogs from the "Your Sites" list and click "Save Settings" to save all changed WordPress settings to multiple websites.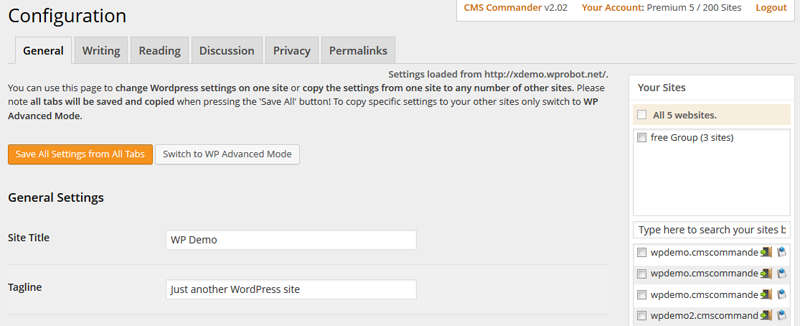 The "Configuration" page with settings loaded from a WordPress blog. You can now copy all the settings to all your other weblogs.
The WordPress Advanced Mode
As the name implies this mode should only be used by advanced users! If you don't know what you are doing it can break your sites very easily! What the advanced more does is load all the settings from your website, not only the pre-defined core WordPress ones – this includes all plugin settings!
Because it includes all settings the advanced mode can be used to "clone" all the plugin and WP settings from an old website to a new WordPress site you are working on for example. When you intend to use the same plugins and setup you can copy all plugin settings and save time setting them up by doing this.
When loaded in advanced mode all the settings are displayed in a table, with the actual database identifier on the left and the raw text value of the setting on the right. Each setting has a checkbox in front which you can deselect if you do not want to copy this particular setting to your other sites, which can be useful for unique things like site titles – it will simply be ignored if you save the options in the end.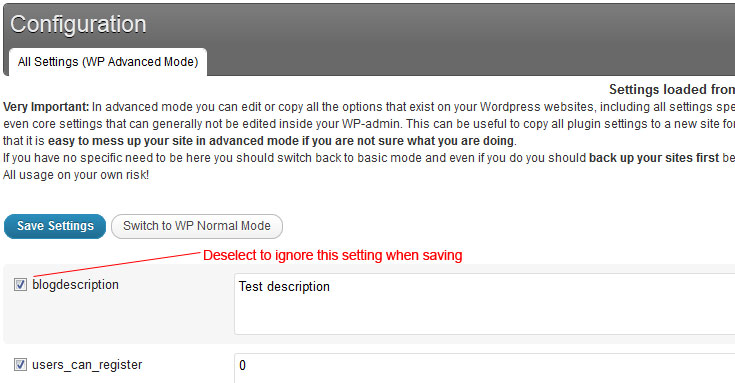 The "Configuration" page in WordPress advanced mode.
Join Over 3,000 Other Commanders!
Sign up now to start managing all your blogs immediately.
Completely free for 30 days. No payment details required!