While not having spinning or rewriting features of its own CMS Commander supports the use of several of the most popular rewriting programs out there. If you own one or several programs all you have to do is enter your user details on the CMS Commander options page.
Afterwards you can use their rewriting features in several powerful ways within CMS Commander:
Rewrite all of the content you have created on the "Bulk Content" page at once with a single button before posting it to your websites.
If you use several of the supported rewriting programs CMS Commander can create a spun version of the article you are working on for each of them – you can then choose your favorite out of the results!
When posting one article to several sites CMS Commander can create a unique spin for each site, essentially forging several unique versions out of one piece of content.
The following 3rd-party rewriting softwares are supported by CMS Commander: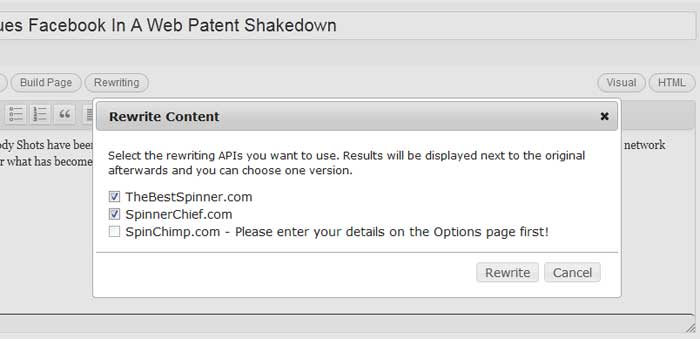 View of the rewriter selection popup in the "Post Editor".
Choice of result after the rewriting is done.