CMS Commander uses the Amazon Product API to retrieve any of the many thousands of items listed on Amazon and then automatically post the Amazon products to your websites. Search for keywords of your choice related to any topic and publish the returned results on your website, including thumbnails, product images, description, prices and more! Even better: You will earn money through the Amazon affiliate program for sales of the products that were automatically posted to your site!
Amazon autoposts can be created in bulk and scheduled or you can insert specific Amazon products into the articles you are writing yourself.
Automatically create Amazon product posts for any keyword you desire.
Earn money for any sale you refer through your articles with the Amazon affiliate program.
Display many different information in your automatic articles, including the product description, images, feature lists, reviews, price and more!
Support for all international sites of the Amazon Affiliate program including the United States, Canada, United Kingdom, France, Germany, Italy and Japan!
Many customizable options and editable post templates to choose your desired display of the content.
Joomla Amazon Autoposting
As part of CMS Commander's Joomla management features you can automatically post Amazon products to your Joomla websites. CMS Commander can autopost Amazon to any category existing on your Joomla site using any author account of your choice or create new categories and users if necessary.
Drupal Amazon Autoposting
CMS Commander helps you to automatically post Amazon products to all your Drupal websites. Insert the posts in any category or create a new one on demand while remotely managing your Drupal sites. Amazon autoposts can be scheduled over any period of time in order to be drip-fed to your website.
WordPress Amazon Autoblogging
You can also autopost Amazon products to any of your WordPress websites managed by CMS Commander. Amazon autoposts can be scheduled over any period of time in order to be drip-fed to your website and can be created in any category and by any user of your choice.
phpBB Amazon Autoposting
Finally, CMS Commander can automatically post Amazon products to phpBB forums as part of its forum management features. To make the automatic Amazon posts in your forum look natural you can have them posted by new user accounts created by CMS Commander. The software also converts all HTML found in the automatic posts to BBcode, so that it is displayed correctly in your forum.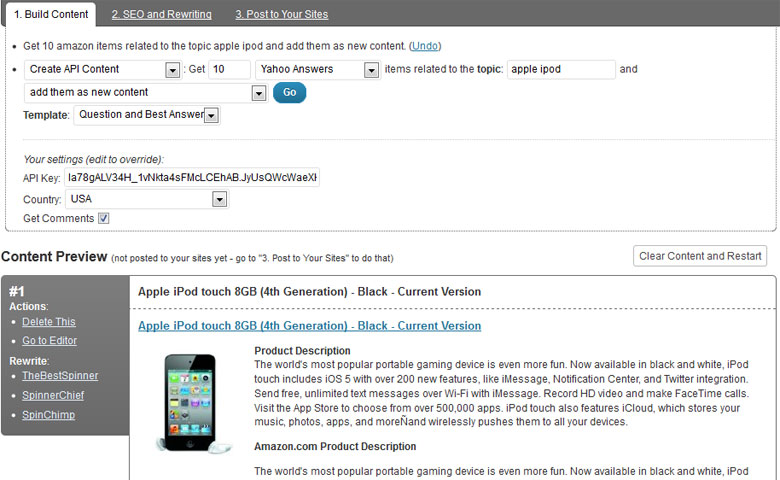 Example of the bulk content page for autoposting – here with loaded Amazon products and the options for Yahoo Answers displayed.